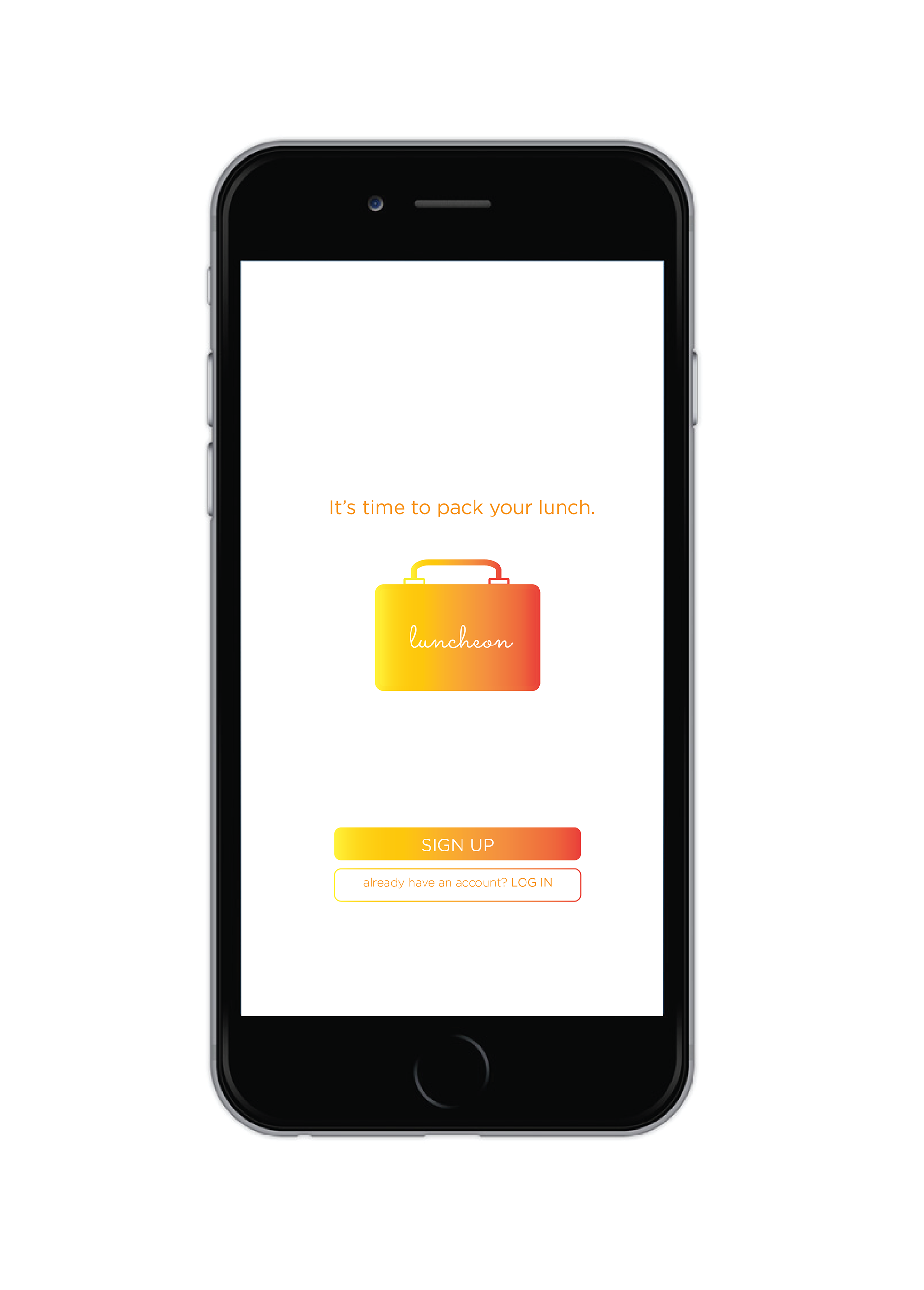 To describe a novel solution that leverages the capacity of technology to engage and enhance the wellbeing of communities.
On this project, I served as

Product manager

, and

UX researcher

. I worked closely with my awesome team of UI designers to develop the platform's energetic and positive look and feel. 
Brainstorming & literature review 
To identify an idea for our project, our team started with

brainstorming

to identify possible ways in which the physical or mental wellbeing of people can be improved by connecting communities. "Food" and "exercise" came frequently in our discussions. 
We identified that though there are applications in market that track your runs, help you source food from outside or help you sleep better; there are

no applications

that focus on promoting eating healthy home-cooked meals or help sharing a home-cooked meal.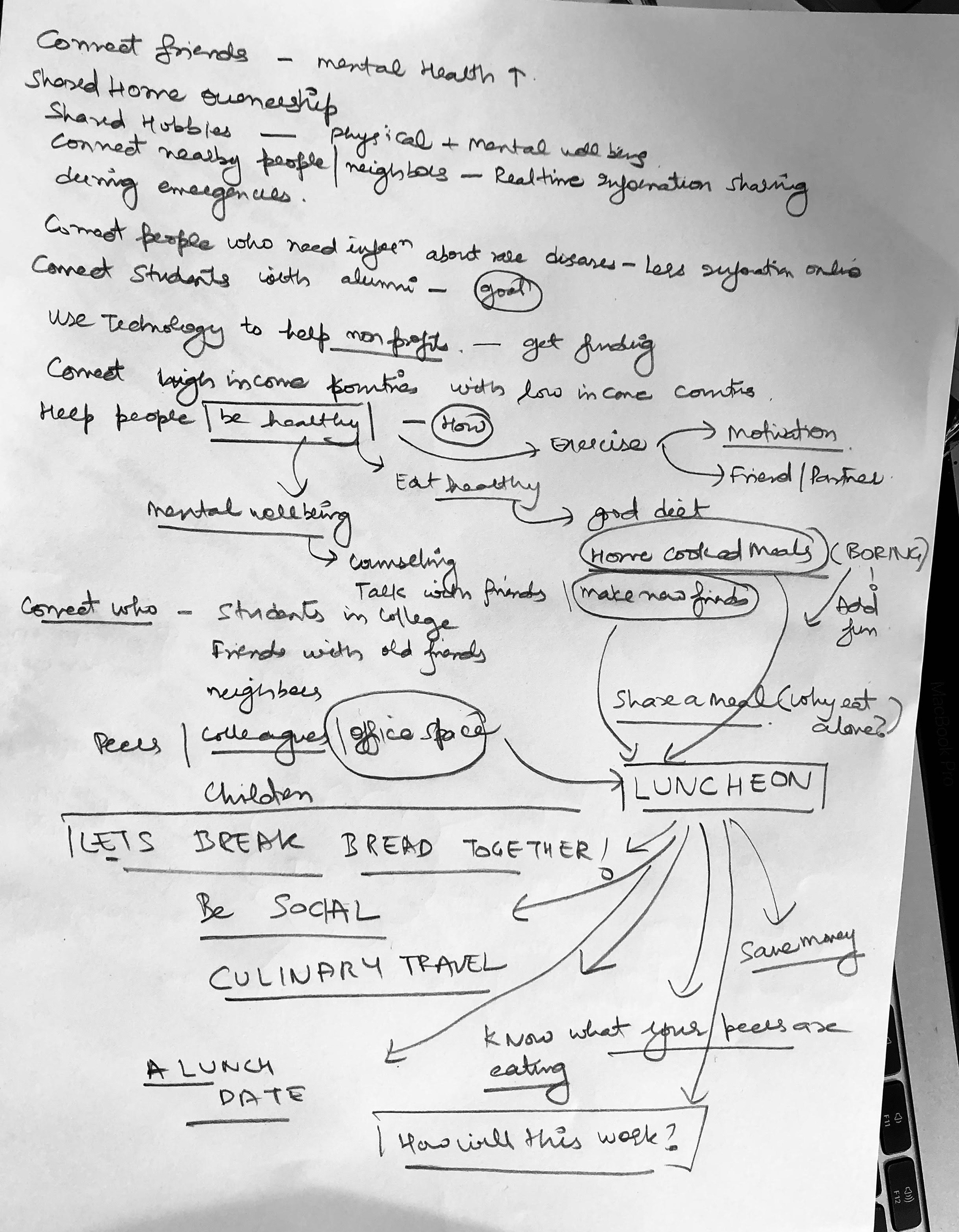 ​​​​​​​

Identifying existing solutions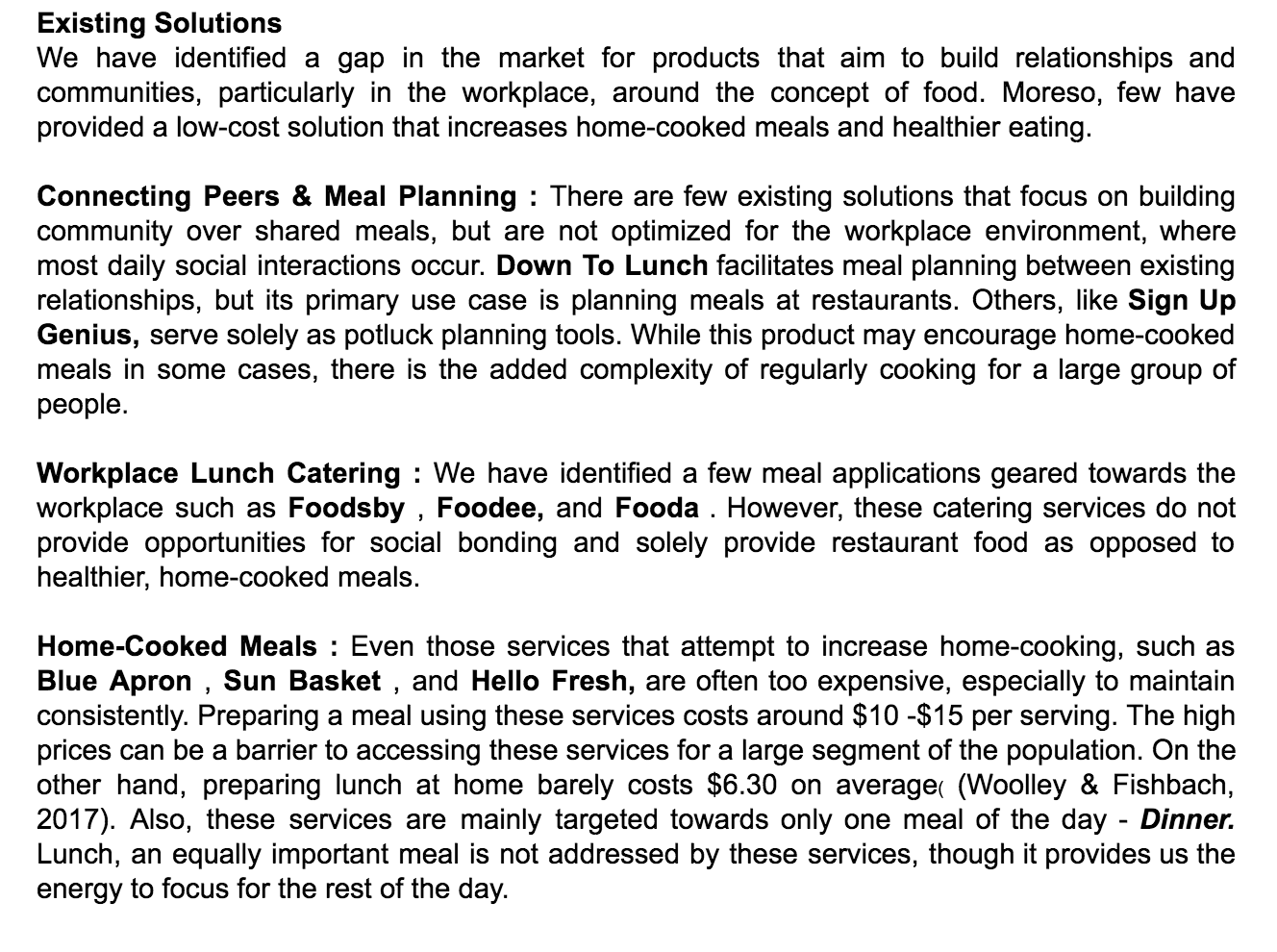 Develop an

online food-pool platform

called "Luncheon" to connect people who appreciate home-cooked food and help them share a meal together.
Vision

: Re-invent lunches, make them healthier and more fun!

Our Assumption:

People would be willing to share a home-cooked meal with others.
Validating our assumption

: A

Unstructured interview

based on a light structure and preparation was conducted with 5 people working in different companies. Conversation's "skeleton" revolved around what governs their food choices and their attitude towards a restaurant meal and a home-cooked meal.
Insights & Strategy:


The respondents described that they would prefer a home-cooked meal over restaurant meal for their lunch. One of the biggest concern that came up in the discussion was safety.
"I feel sleepy after a lunch buffet. I think, I end up eating more calories - I am not sure! I know a home cooked meal would be lighter and healthier but I do not get a chance to cook and pack my lunch every morning" -Respondent
"Definitely, It would be fun to try what others are eating! I guess it would be an authentic way to try new cuisines- after all what can be more authentic than a home cooked meal right?"  - Respondent
"I think I am a little skeptical, but you cant eat food offered by a stranger" - Respondent
Key takeaways

for us from the qualitative interviews: a) People do believe that a home-cooked meal is healthier than a store/restaurant meal. b) Design a system that can mitigate their safety concerns of sharing food with strangers. 
Key Features of Luncheon & their rationale
●  

Reduced Cognitive Overload

 - Don't have to think about where and how to get a healthy lunch each day. Match users directly according to their food preferences and chosen date and time.
●  

Making the Choice Easy

 - Instead of focusing on who to connect with, make the choice for them so that they can focus on the connection itself. 
●  

Build -in Accountability

 - Matching system holds users accountable to each other. 
●  

Keep Users Engaged

 - Encourage users to participate by displaying the top contributors and what lunches they've experiencedMoney saved motivates users to stick to their goal.
●  

Keep Users Motivated

- Show $$$ saved/lost to reinforce the financial benefits for eating home-cooked meals and motivates users to stick to their goal.
                                                  

​​​​​​​
Prototyping and testing


Loaded with our insights, we went back & began sketching up quick prototypes. We started by working on a two-day 'design sprint,' a concentrated period of time in which we design a prototype, test it with real people, learn from it and iterate.
After incorporating our favorite ideas, we designed a prototype and went back to the field to test it.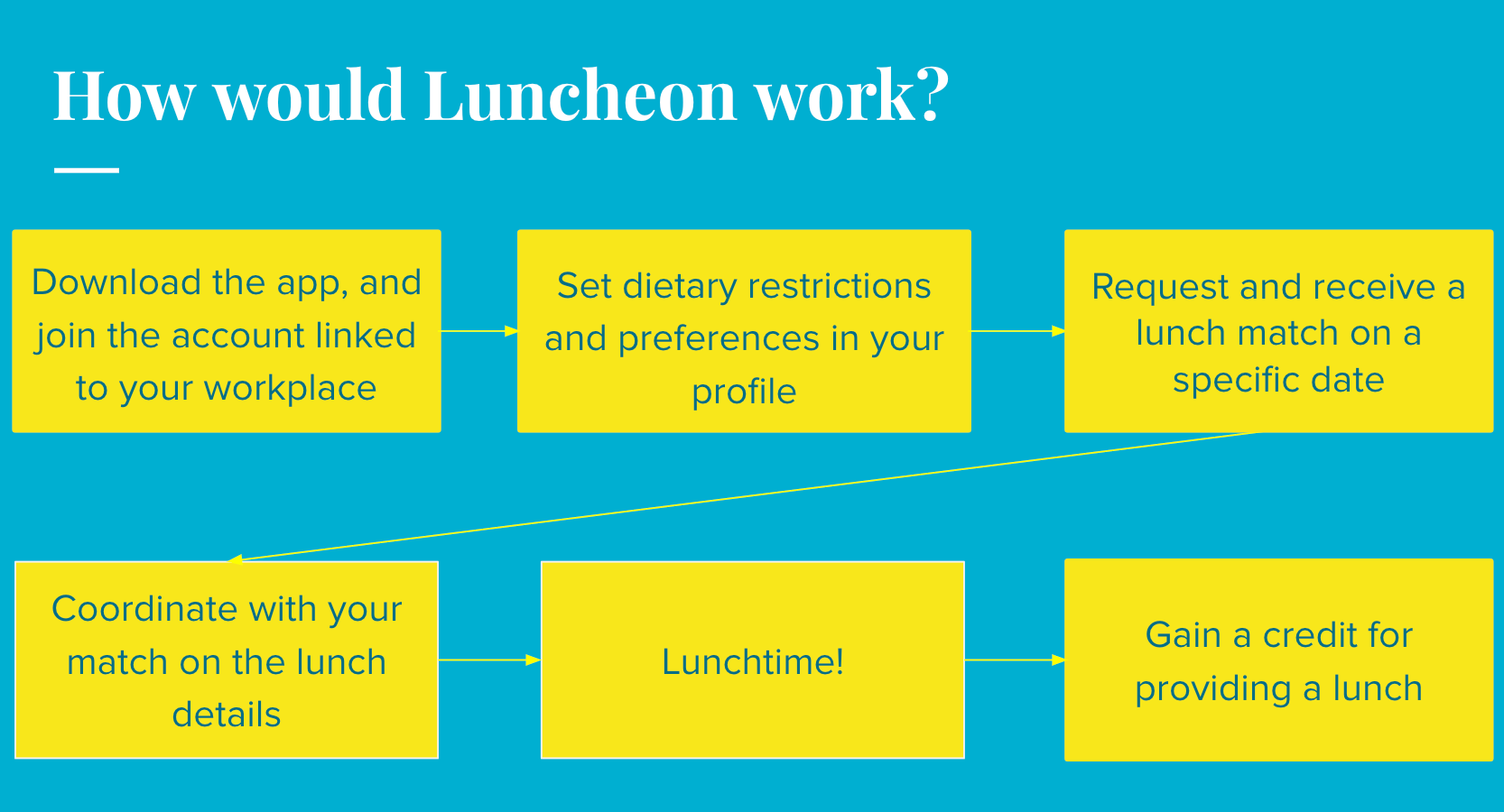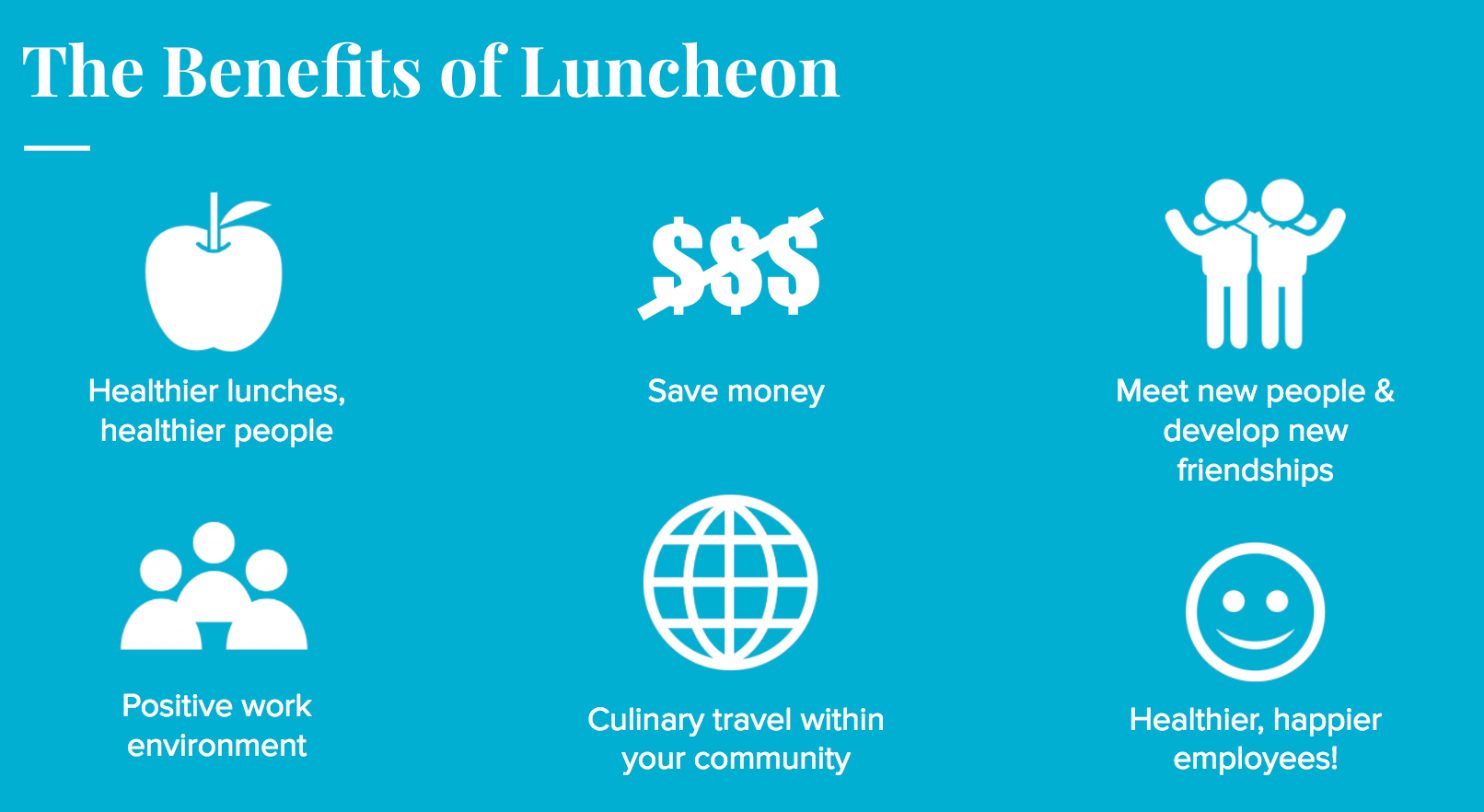 We received great initial results and incorporated feedback in subsequent designs.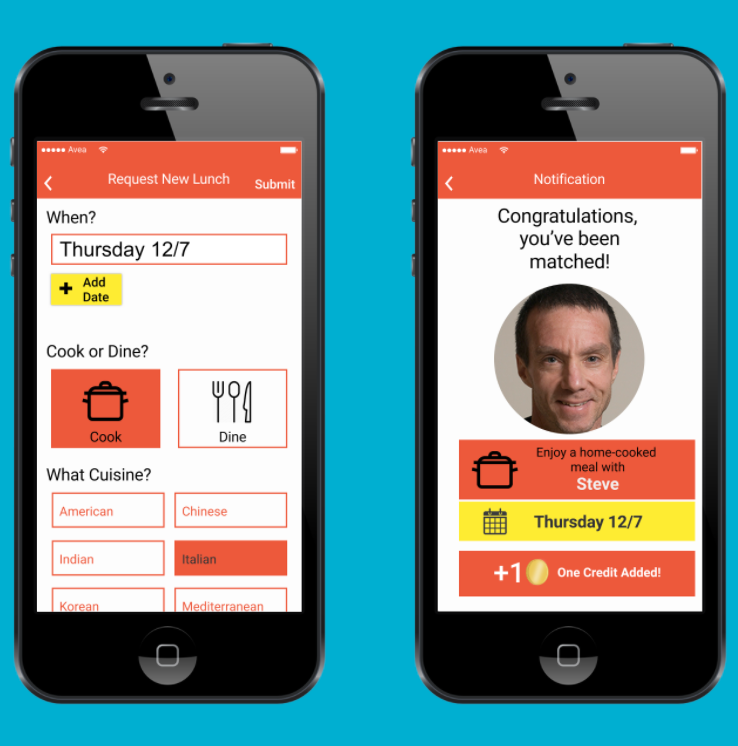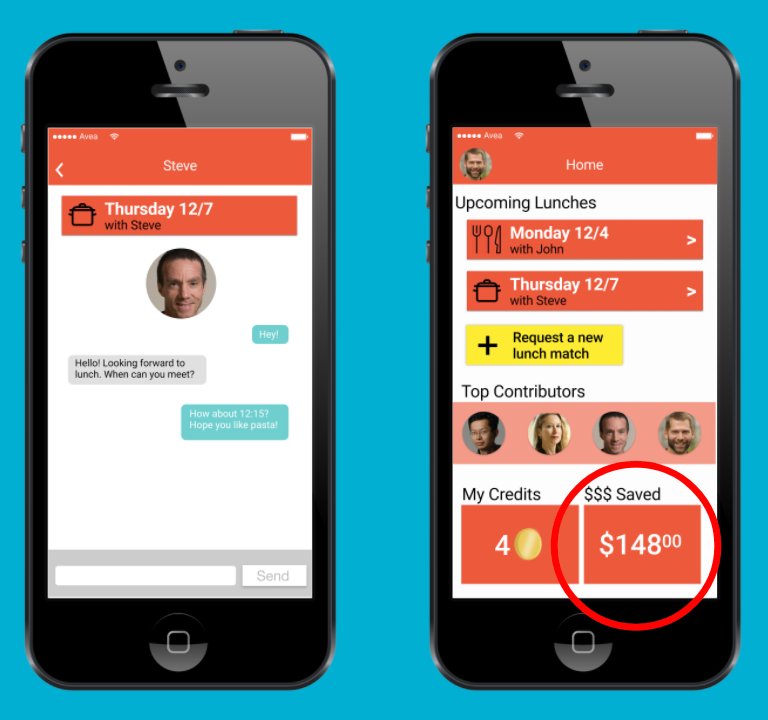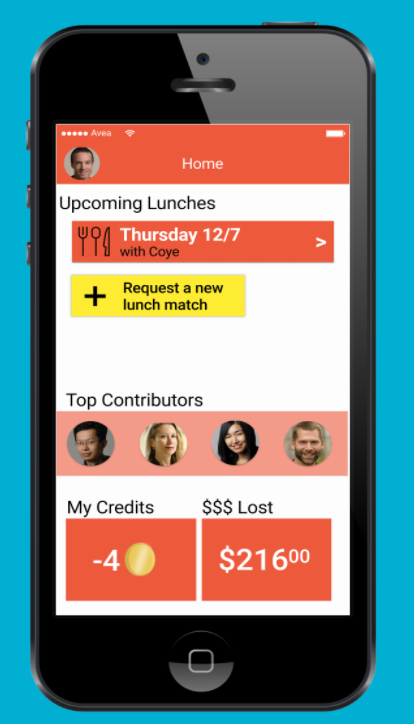 ●  Building Luncheon's technical platform, allowing for applied behavioral principles and robust user interaction.
●  Piloting with 150-300 people in an organization and re-designing platform based on feedback.