Design product to address

social isolation

and

promote social engagement

. This design project aims to address the challenges highlighted by the

Stanford Center for Longevity Design Challenge

, whose goal is to "Promote lifelong healthy habits through design."
I worked with my team to

find the solution and then design a product

that motivates users to build a product that increases social engagement. 
I

led my team through the design-thinking proces

s that helped us understand the users and prioritize product features.
Ideation - diverging before converging on one solution
In order to explore how to improve social engagement, we had multiple brainstorming sessions both individually and as a group. Ultimately - we found ourselves drawn to social isolation and curious about what barriers prevent people from social engagement. 
In order to explore the issue of social engagement, my team conducted a series of

qualitative interviews

. 
Demographics:

Undergrad, Graduate, Young Professionals, Middle Aged, Retired
A series of questions about their preferences and behaviors around finding events, signing up for events, and choosing to attend or skip were asked.
● Reasons for signing up: interest, location, cost 
● Change of plans happens close to the event
● Drop in excitement from time of registration to day of event
● Social accountability: having a friend attending matters.
Identifying Existing solutions
Next, we identified existing solutions in the market to understand where they fail to help user and how can we create a better solution. Many applications help the user in finding and adding social events but they do not make sure the user sticks to this commitment of attending the events (they signup for). Thus, a user often ends up signing up for multiple events but attending only a few.


                                                     
A mobile application that

increases social engagement by helping users build a lifelong habit of committing and attending social events

.
We decided to call our solution "MOXIE" since it aims to provide its users the force of determination necessary to follow up on their commitment of attending social events.
We conducted two 

surveys

to better comprehend 

event attendance

behaviors and better understand our users.
● 

Money matters!

People are more likely to attend an event they paid for.
● New

conflicting plans

, decline of interest, and tiredness lead to cancellations.
● Having a friend/

buddy

increases likelihood of attendance.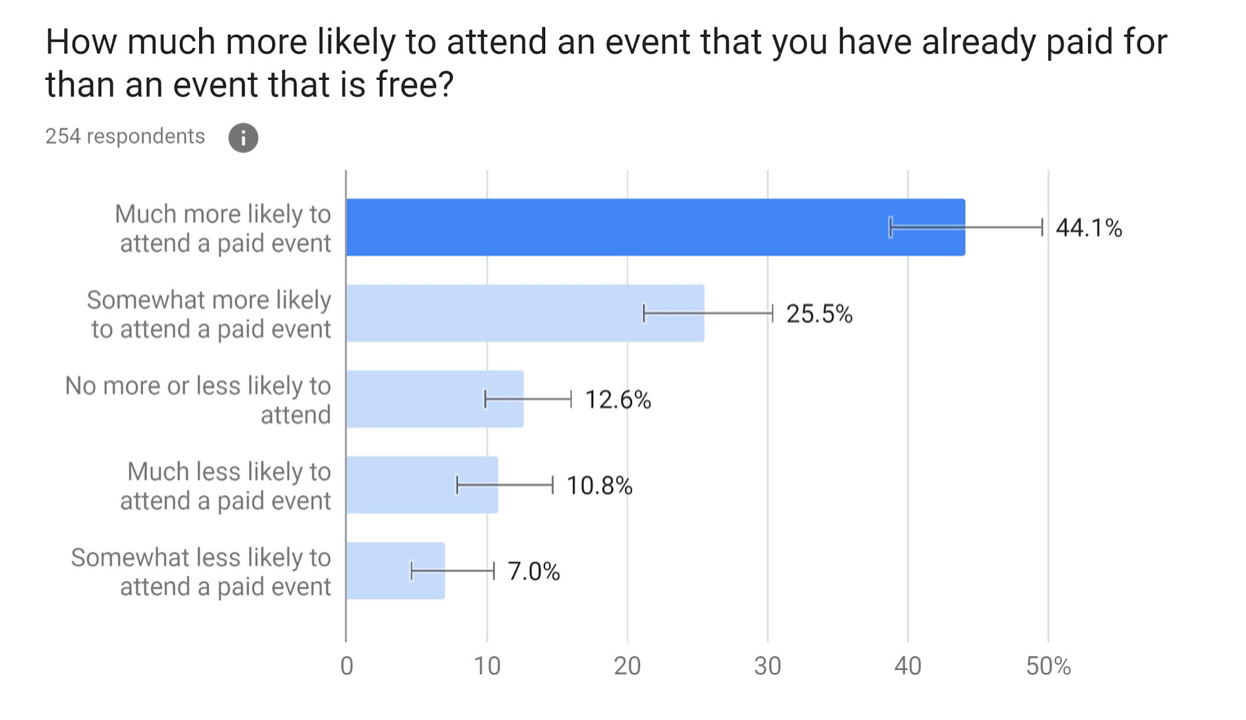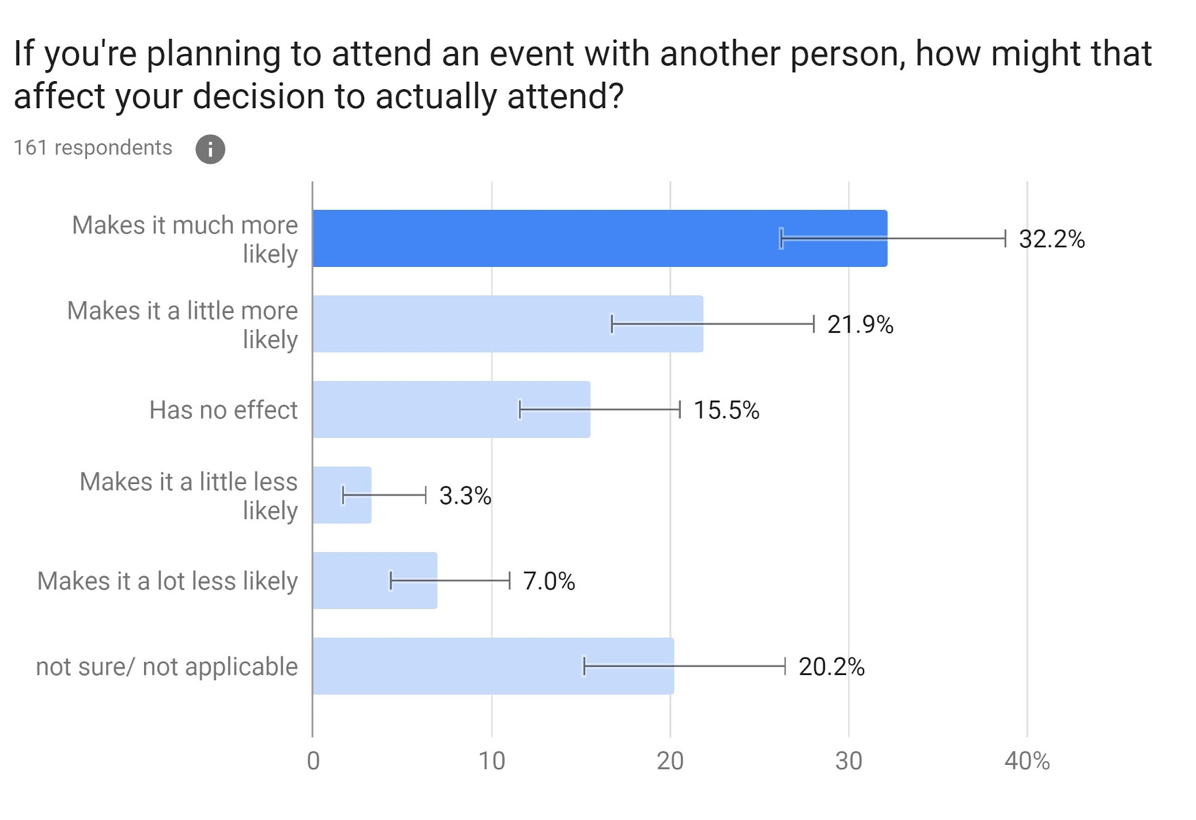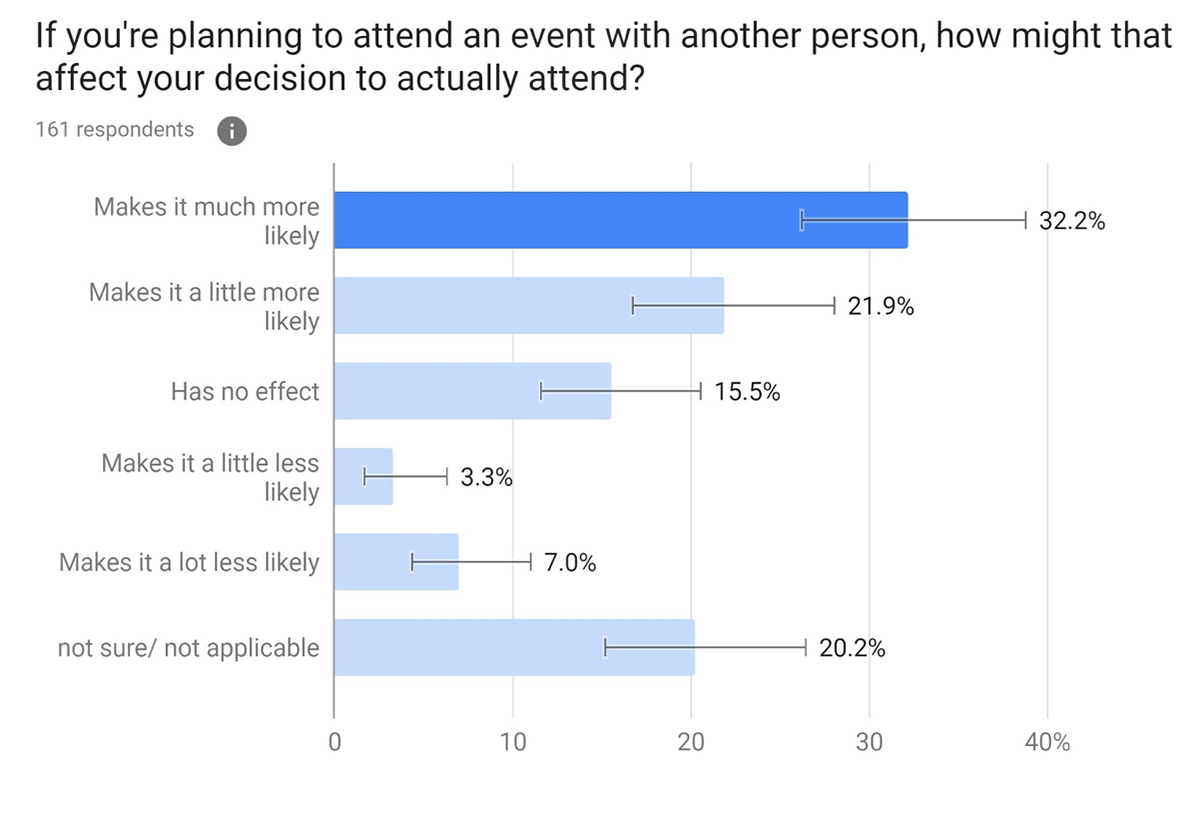 Armed with the insights we got from qualitative and quantitative research we proceeded to create the personas of what the team identified to be our two 

typical users

.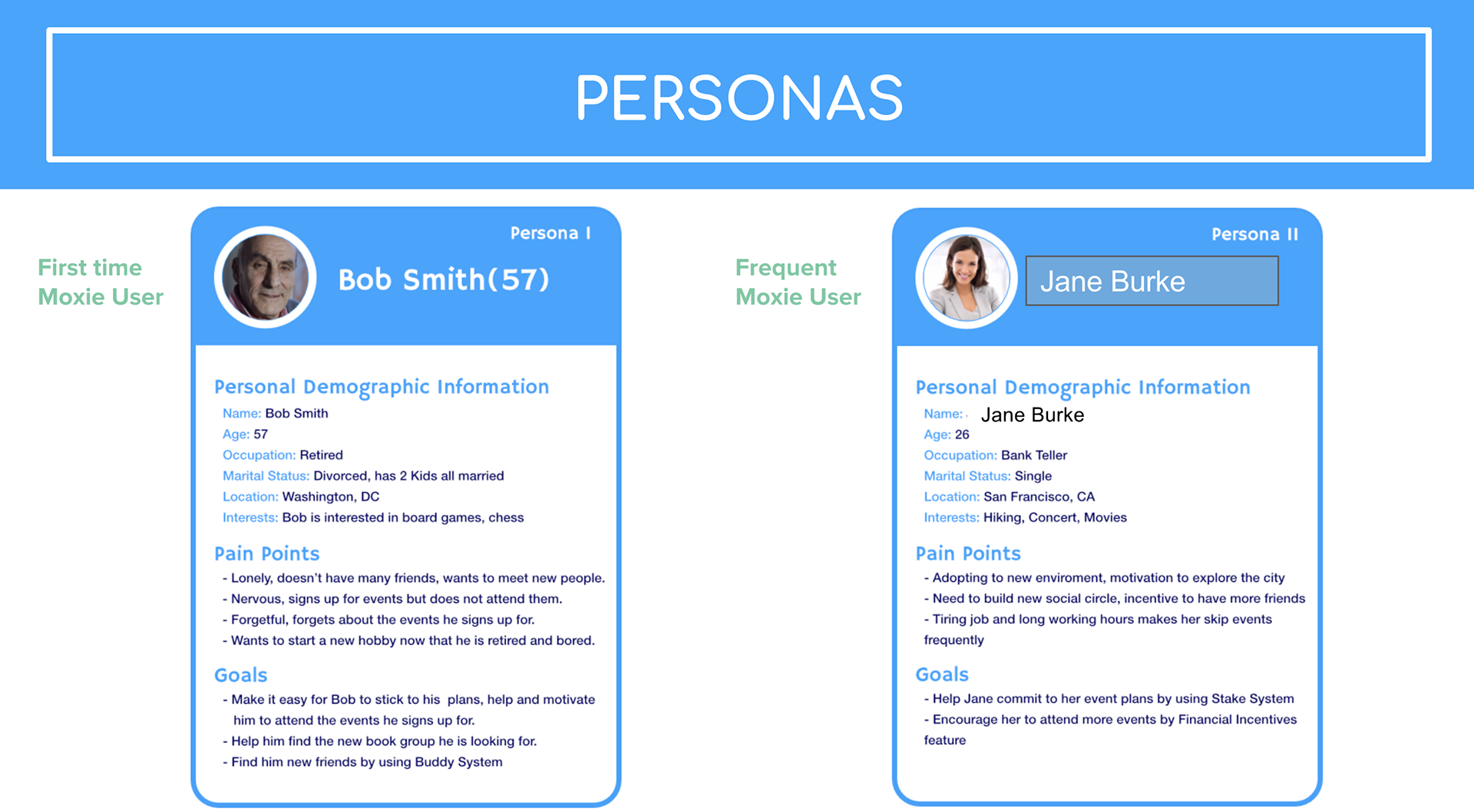 Deciding on features & Prioritization
The team collectively first brainstormed a set of all possible features to address the problems uncovered using qualitative and quantitative research. Features were added thinking of the user flow and how it would help

our personas in meeting their goal

.
Next, all features were

e

valuated on their complexity and value matrix

. Everyone on the team ranked the features individually and the features with maximum score were included in the

Minimum Viable Product.
By providing empirically backed mechanisms to encourage commitment and attendance to events and a thoughtfully designed interface and experience, users will build a lifelong habit, increase their social engagement and improve their overall health and wellbeing.
The key features that we decided on were:

 
● Provide

visual reinforcements



● 

Design to account for fading excitement - frequent r

eminders and using their own words to highlight why they were excited for the event.
●

Buddy feature

- help the user overcome anxiety by "A familiar face at the event" , help them connect with each other before the event.
●

High stake feature 

- introduce money, the great incentivizer, draw on power of loss-aversion.
●

Highlight achievements

, focus on past achievement to motivate the user to attend future events
● Intuitive calendar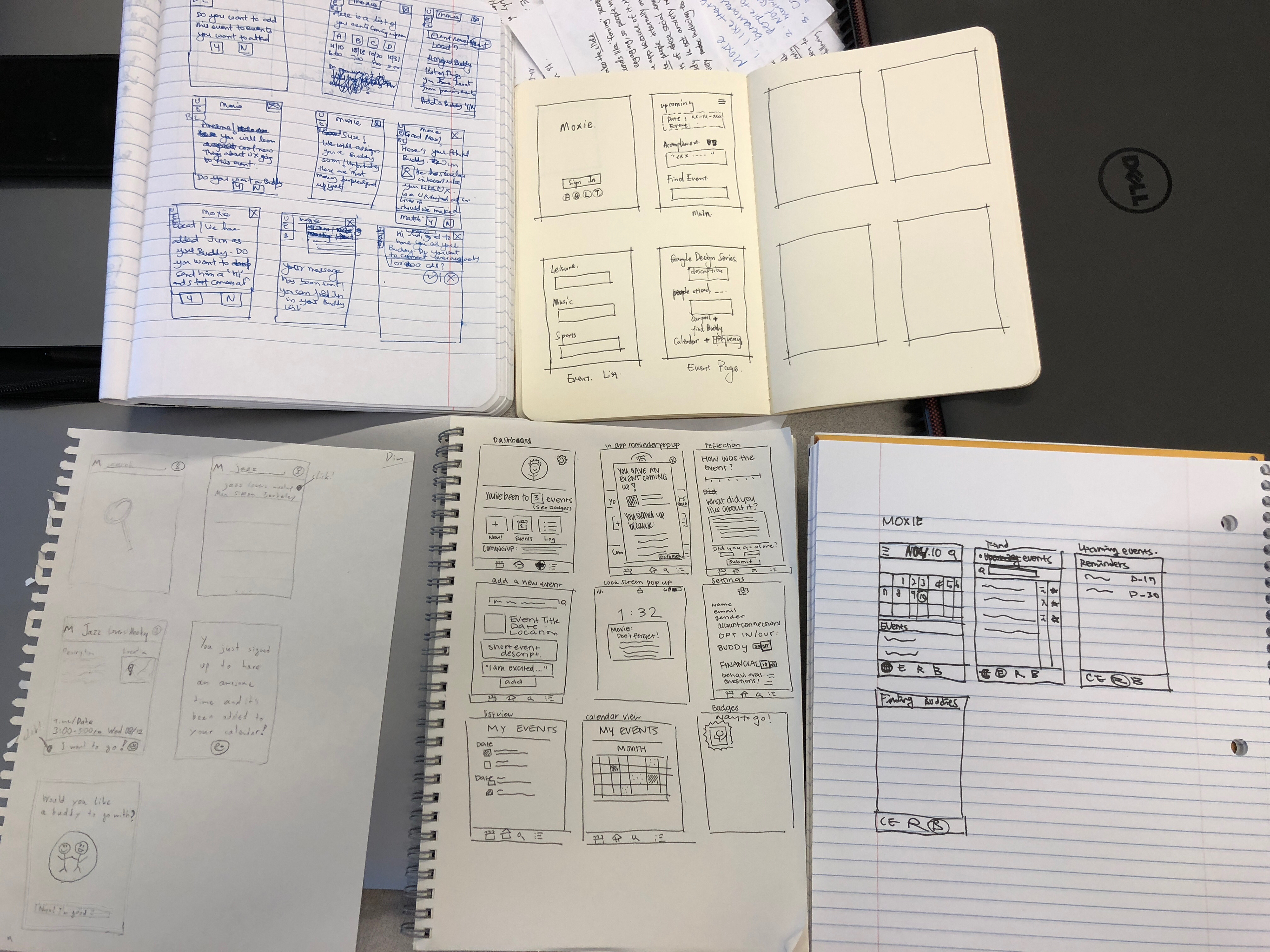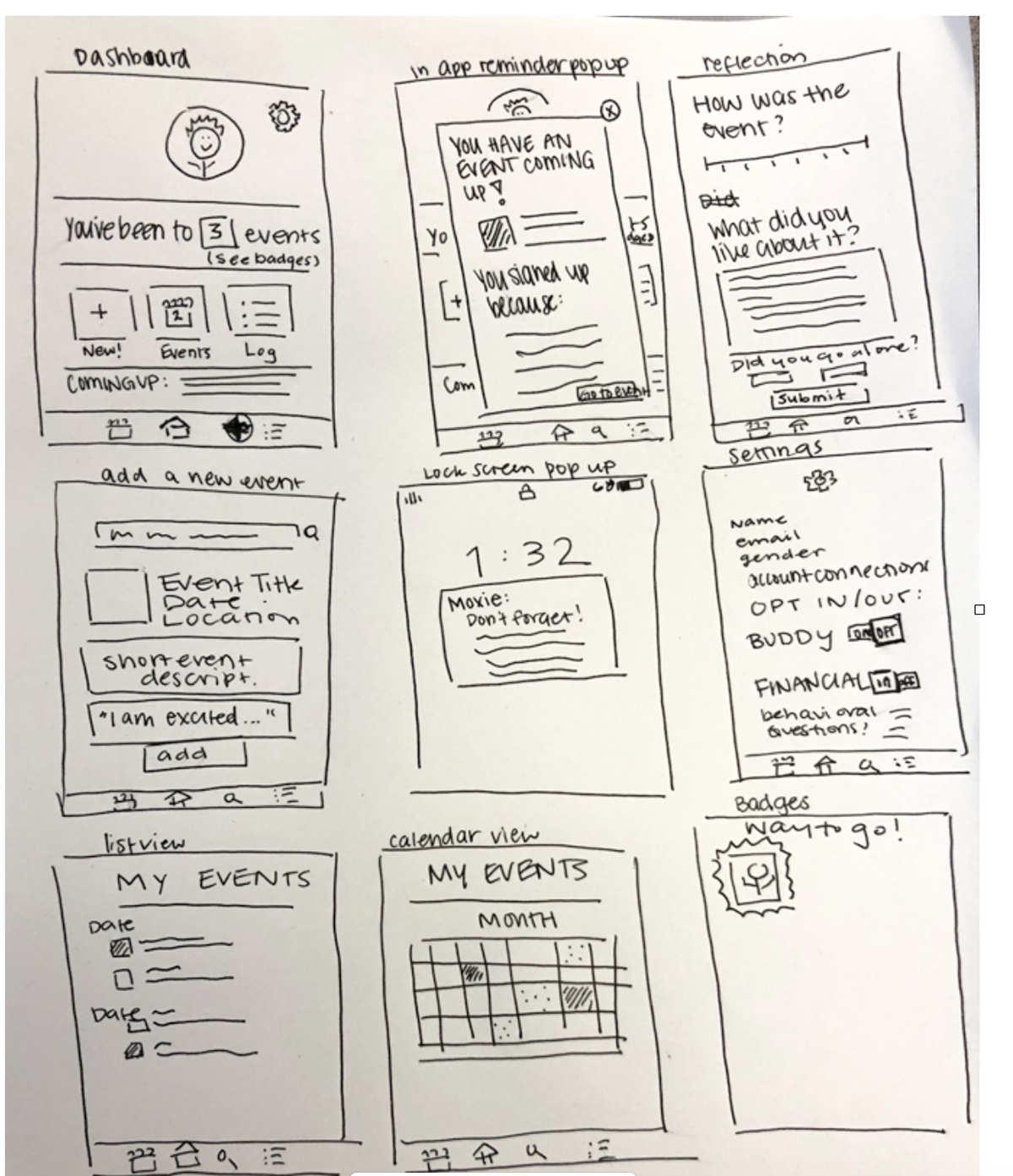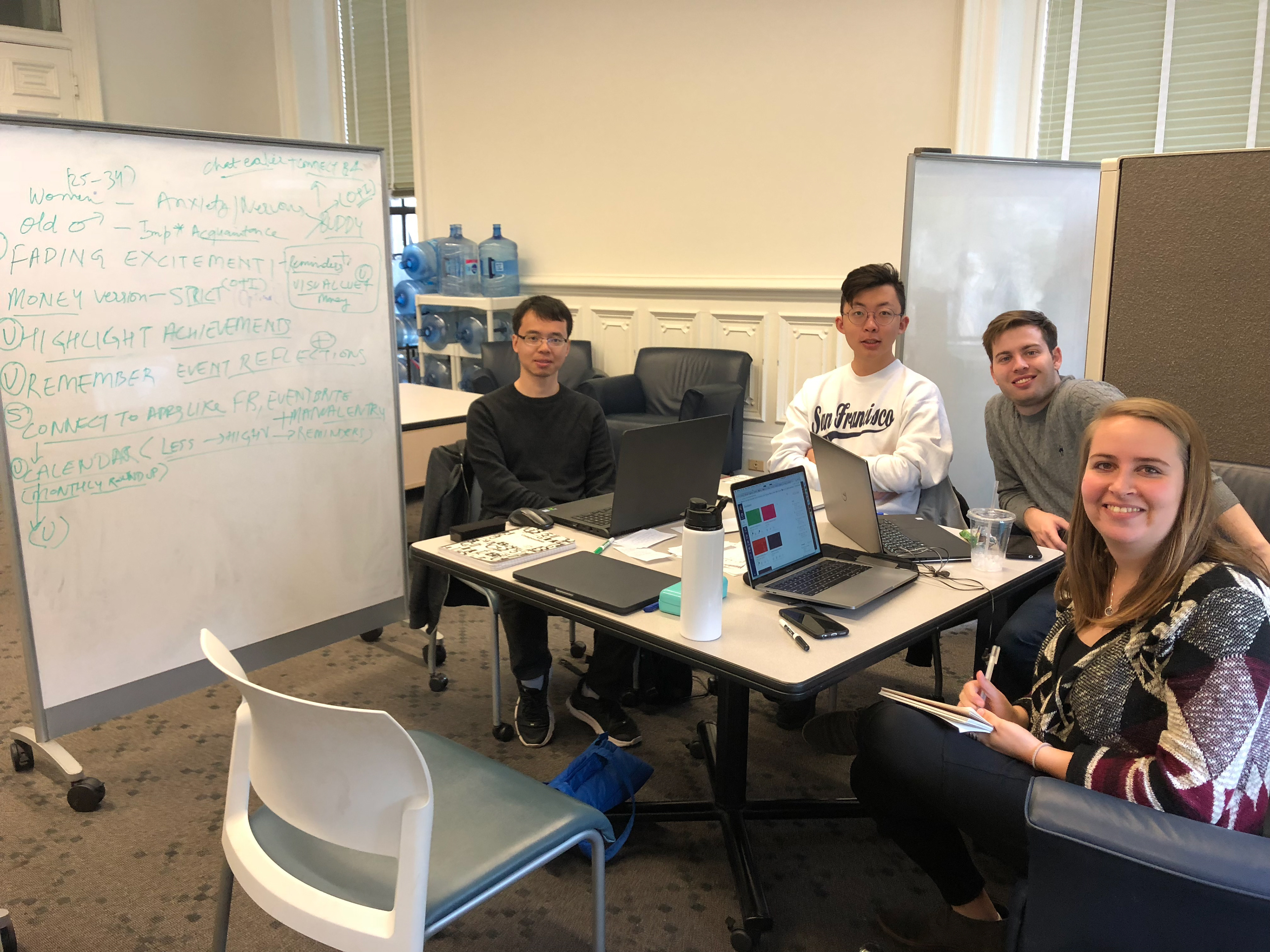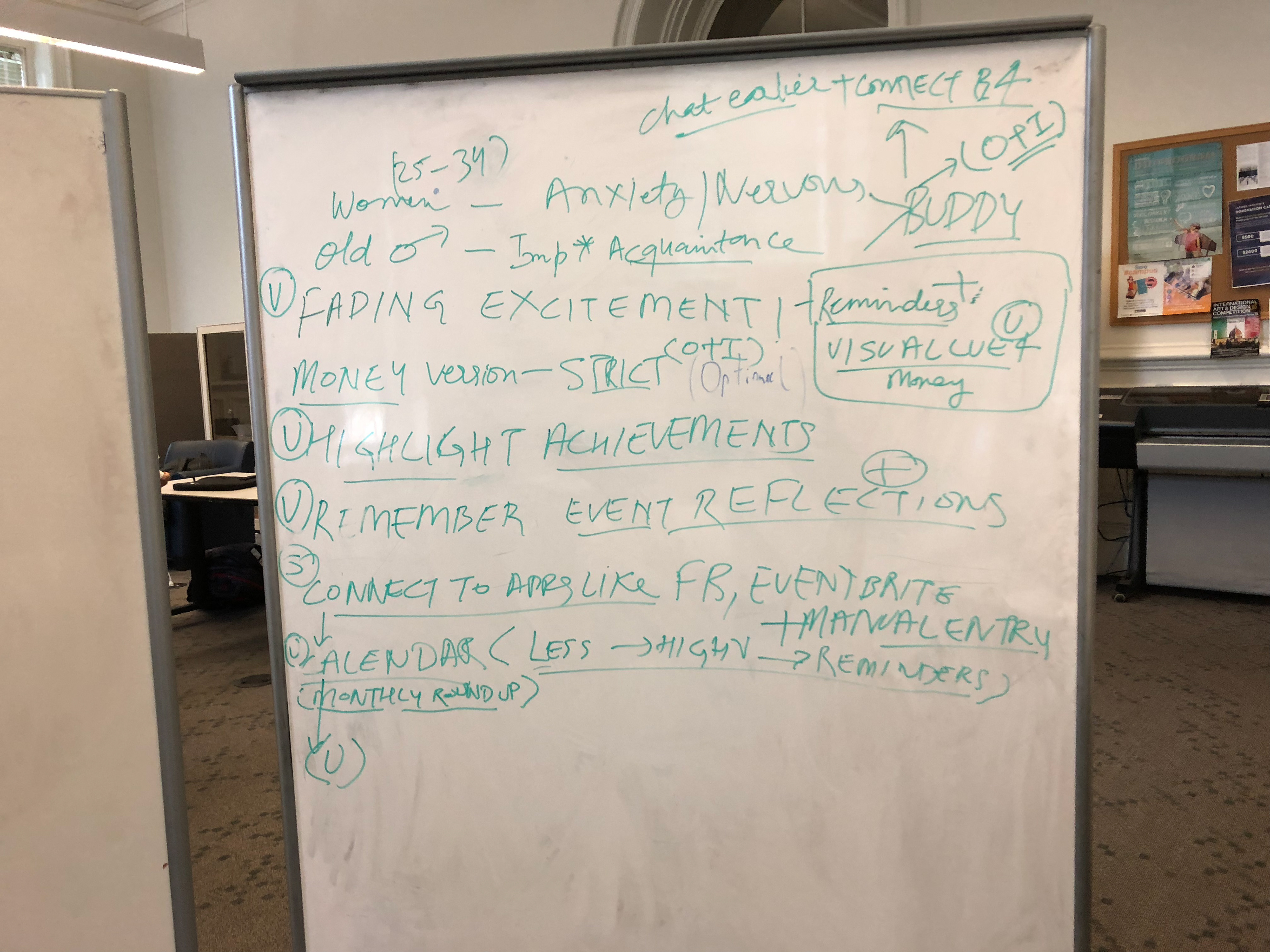 After deciding on a set of features, the user flow was mapped for the two personas. The entire team was a part of this exercise. 
Next, each team member individually created their own wireframes. 
The best features of each were then chosen and incorporated into our low fidelity prototype.
Prototyping & Usability testing 
Low-fidelity interactive (clickable) prototypes were created using Adobe XD and Figma. One round of user testing was conducted to test if user's understand the idea, if the design actually works, and if test participants could use "MOXIE" features in a natural way. 
St

andard industry practices such as think-aloud protocols, task-based  testing were used while gathering instrumental qualitative information from users. 
After incorporating the

user testing feedback

 and design choices, the team created the final high-fidelity prototype in Marvel. A 

heuristic evaluation

was performed using 

Nielsen's usability heuristics for User Interface Design

.  The final high-fidelity interactive prototype was again tested with users and the feedback was incorporated in the final prototype.
 We developed an interactive hi-fi prototype that was ready to be implemented.
The design and research process helped us identify and prioritize our features. Subtle nuances identified by user feedback impacted on the performance of the application and helped us in prioritizing the features for our MVP and saved us an enormous amount of cost and effort.